DVLA has recently held their fifth digital event titled Getting Swansea Online in the Richard Ley Development Centre. These events are designed to help people who have little or no experience of using the internet get hands-on experience using it.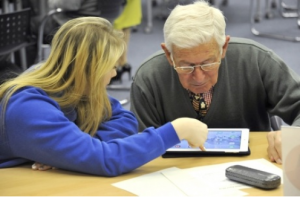 Students from Maesydderwen School were invited along to help out as part of their Welsh Baccalaureate Qualification. This is the third event the school has assisted with, and the feedback from the previous sessions they attended has always been excellent.
David James, Digital Services, welcomed everyone to the event, and soon DVLA colleagues, the students and the tutors from Lifelong Learning were busy helping everyone get online. Our attendees, some of whom had brought their own iPads were soon setting up email accounts, learning how to talk to friends and family across the internet and uploading and sending digital photos.
A number of attendees tried out the new view your driving licence service and were very impressed with how easy it was to use, feedback showed most attendees were also aware of our online services and felt a lot more confident about trying out the agency's many online options.
Susan Richmond, External Communications, who helped co-ordinate the event, explained, "These events are designed to give people the confidence to get online. Once people realise what the digital world has to offer there's no stopping them. I've been showing people how to search the web for anything from money saving tips to new recipe ideas for their tea."
The feedback from attendees was really positive, they thought it was a great idea and would definitely recommend coming along. The event was also a hit with the students, it was a chance for them to get experience of the real world, and learn how to apply their skills in practical situations.