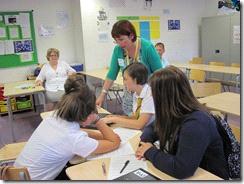 Ablaze is a charity that helps Bristol businesses to provide opportunities for volunteers to share their business skills to raise aspirations, attainment and achievement in young people - particularly those from disadvantaged areas.
Ablaze recruits female business volunteers to act as positive role models to deliver 'Breaking Limits', an innovative programme for teenage girls who may underperform at GCSE level.  Harriet Stevens from HMRC Corporate Communications - Sustainability Team volunteered to run a session and share her experiences.
It was my third time delivering an interactive tax session through Ablaze, this time at the Bridge Learning Campus in Bristol.  I spoke briefly with the girls about HMRC and what we do, then ran a short quiz about HMRC and tax. Having learnt from previous sessions to keep things moving and encourage as much participation as possible, I then split the girls into two groups and asked them to create a short PowerPoint presentation illustrating how our taxes are spent.  Some girls were initally disengaged but enjoyed working with each other on an IT-based activity. Each group chose a representative to present their slides to the other and I was really encouraged when a shy girl stood up in front of the classroom and spoke positively and animatedly about the topic.
Benefits to the girls
I asked the girls to complete a simple questionnaire at the end about what they had learned and here are some of their responses:
I liked creating the presentation on what taxes are spent on, I learned what HMRC do and I liked learning new things.
What I learned
Each time I do one of these sessions with disadvantaged young people, I try to learn from it and improve for the next time, by giving information even more clearly and making things as interactive as possible - epecially via IT based activities which the girls seem to enjoy.
Ablaze's Breaking Limit's Co-ordinator, Amanda Cranston, who also attended on the day said:
The students engaged positively with Harriet's easy style of interactive participation and demonstrated their understanding of the topic by giving their PowerPoint presentation for the audience, which was both entertaining and factual.
If you want to find out more please email Nita Murphy