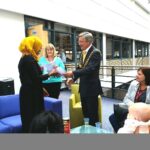 I'm, Gary Lloyd from Acas and I am a member of a cross departmental team which came together to support pupils of The Meriton in Bristol.  It proved to be a memorable experience for me.
When I applied to be part of this project I didn't know what to expect and found myself feeling a little apprehensive. The project team was made up of 11 volunteers from 4 different departments. After the initial meetings, where we planned what we wanted to do, I started to feel like I belonged to a very special family. Everyone got on with each other and eagerly shared their ideas and eventually my apprehension turned into excitement with a passion to drive this project forward and this was shared by the project team. We developed a 6 week programme of events whilst working in collaboration with a local school, The Meriton who were happy to work with us.
The school already had programmes in place that covered things like interview skills and CV writing so they requested that we produce a Code of Conduct, with the students, for use in the school's Welcome Pack, so we built our sessions with this in mind.
The first visit was at the school itself where the project team met the students. We spent time doing an ice-breaker and soon had the students interacting with us. We spoke about who we are and what we do and also about what the Civil Service is, whilst also learning about the students themselves. It's fair to say this was a challenge but one of our team was exceptional at keeping the students engaged.
The second session involved the students visiting Temple Quay House. We invited representatives from 7 departments to meet with students for a Q&A session. This was followed by a tour of the offices where the students suddenly had many more questions to ask.
The third and fourth sessions were mainly around building the Code of Conduct and included a mini-workshop which was exclusively designed for this project to create student champions, and another ice-breaker game which involved M&Ms and this turned out to be a very popular game, but I think more so with us than the students. One of the project team had great skill in drawing information out of not only the students but the rest of the project team. By the end of the fourth session the Code of Conduct had been created and we all knew much more about each other.
The fifth session involved a conciliator from Acas interviewing some of the students within a professional environment in order to get feedback from the students about how far the project's aims and objectives had been met. Amongst other things students felt that involvement in the Project had increased their awareness of employment opportunities in the Civil Service and helped to improve confidence and skills for moving into employment.
The final session was a much more relaxed affair where the Lord Mayor and Lady Mayoress of Bristol had been invited to join us along with Nita Murphy (Civil Service Local), Tony Cooper (Acas) and Zoe Riddle (Acas). A few speeches were delivered about this project and its success and even one of the students spoke of her enjoyment and what she had gained from this experience. This was followed by Certificates of Achievements being presented to the students and the project team, a raffle prize draw and finally a boat trip around the beautiful Bristol harbour.
As a team, we are planning to stay in touch with the school and hope to continue to build a relationship with them into the future.
This project far exceeded expectations and everyone who took part found it very fulfilling. The experience has helped to enhance our own existing skills and develop new ones. It also included a bake sale and a fashion show so we could raise money for refreshments and any extras. In the end we raised so much that we were able to donate a total of £237.49 to the school which will go towards a new mini bus.
Personally, I've had the time of my life on this project and I feel, without exception that everyone has been very professional and so warm and welcoming to each other with amazing comradery. Everyone has been active and determined and I would say have gone above and beyond in driving this project forward to meet its objectives… and they really did become like a special family to me.
What a privilege indeed!
If you are interested in taking part in a similar project, contact Richard Hill.