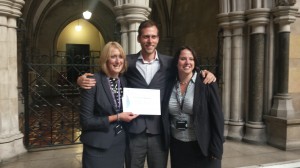 In July, I posted a piece about Karen Taylor and her team from HM Courts and Tribunal Service receiving the South West HMCTS award for Community Engagement in recognition of their work on an Engaging Our Schools project with Eden Primary School. The team attended the national awards at the Royal Courts of Justice on 3 September and heard that they were runners up in their category.
Sandra Aston, South West Delivery Director said The calibre of nominations was high and some of the stories we heard were amazing. To be chosen as regional finalists and be in the room was already a fantastic achievement - but to go on and at the national awards be selected as a runner up is truly brilliant.
Many congratulations to Karen, Fiona and Ales. If you are interested in Inspiring our Primary School Children, leading or participating in an Engaging Our Schools project in your area, please contact Richard Hill.