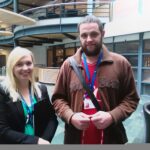 Temple Quay House in Bristol was certainly buzzing this week as it welcomed people from a wide range of backgrounds to participate in mock interviews to help them build up confidence and experience in getting ready for work.
18  civil servants from 9 different departments in Bristol came together to form the interview panels that gave clients from St Mungo's Hostel in Bristol the opportunity to experience a formal job interview and get some feedback on their interviewing skills.  The project was led for CS Local by Katy Davis from the Department for Transport, who thoroughly enjoyed the day.
The day was a fantastic opportunity for all concerned. Many of the candidates had not been to a job interview in years, or in some cases had never been to one at all, so the experience to them has been invaluable. Most were surprised at how positive the experience was, with initial nerves turning to enthusiasm at how well they did compared with their initial expectations. All of the candidates seemed grateful for the opportunity, and the volunteer interviewers also found the session to be hugely beneficial.
Interviewers enthused about the opportunity to meet and work alongside colleagues in different departments whilst gaining insight into the lives of people from very different backgrounds. Jayne Humphries from the Valuation Agency said:
 Personally, the highlights for me were that I had an opportunity to become involved in the development of people who have come from backgrounds which are far removed and far more challenging than my own.  It was totally inspiring to hear from people who admit to having reached rock bottom but who have now found a way to a better life.  Their gratitude to us for helping out with the interviews (given what they have been through) was very humbling.  I think that the day was best summed up by our second candidate, Jamie, who had certainly experienced some very difficult times.  When asked what motivates him, he simply replied that if he can help just one person to get off the streets and have a normal life, his own life will have been worthwhile. On a professional note, it was also great to meet up with colleagues from different Agencies and I picked up a lot of useful tips for interviewing (as it is something which I hadn't done before). Overall, I would recommend this opportunity to everyone and plan to give a short talk about it at my next team meeting!
The candidates themselves were similarly pleased about having the opportunity to test themselves in a formal interview environment, and were grateful to civil servants taking time out to help them.
All in all a very successful day, and we hope to run similar projects across the south-west and Wales.  If reading this has sparked your enthusiasm to be involved in future, please email Richard Hill and Val Cobbin.