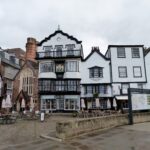 The Civil Service is well represented in the Exeter area, with at least a dozen departments and agencies having a presence there.  It makes sense for us to maximise the efficiency of our organisations and it may be that collaboration across Exeter would enable efficiencies to be made.  Potential areas for consideration include:
 sharing resources,  skills and facilities
 exchanging knowledge
 learning and development
 understanding and supporting the community we serve.
Staff at the Rural Payments Agency are hosting an exploratory meeting on 24 November, from 10.30 am until 12.30 pm at Sterling House, Dix's Field, Exeter, EX1 1QA.
If you work for a department or agency which is based in the Exeter area and would like to attend contact Nita Murphy.
Image by Griffin Star7 and used under Creative Commons licence