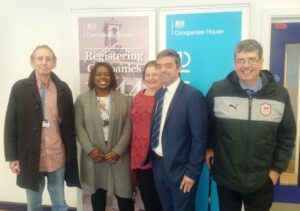 Companies House in Cardiff was the venue for the second round of mock interviews organised by Civil Service Local. 16 volunteers from 6 Civil Service departments volunteered to interview clients from The Wallich and help them on their road back into employment. The Wallich support vulnerable people in Wales by providing accommodation and life skills. Civil Service volunteers worked together to create a very realistic interview environment.
Maria Gibbs a volunteer from DWP said "It was interesting to see that not all people get the encouragement and support that they should when applying for jobs, from the environment they come from. I felt that the candidates needed to boost their confidence and believe in their capabilities. It was also a good opportunity to meet up with Civil Servants from other government departments."
Liz Gwynne a volunteer from DVLA said "It was a good opportunity for networking with colleagues in other agencies. As I am involved in recruitment on a day to day basis it was a reminder of what some people are going through on a daily basis to try and get back into the world of work. A memorable experience."
One of the clients from The Wallich said "It was relaxed. I suffer from anxiety, but the panel made me feel comfortable. It was very realistic. I feel quite good! Getting the feedback really helped. It was well worth doing. Great decision to do it." 
Liz Watkins from The Wallich said "Two-thirds of our service users have had a job in the last two years but many have lost the confidence to attend a job interview.  Some of our clients have never experienced an interview situation.  This was a fantastic opportunity for our service users to build their confidence, self-belief and improve their life and social skills, which can be a step further to the job market and to true independence.  One service user said that he has been worrying over completing a job application for weeks but now feels confident enough to send it off.  The mock interviews have made a real difference in helping our service users get back into employment, to live more independent lives and become part of their communities."
This is just the start of our plans to roll out mock interviews to various parts of Wales and the South West over the coming months, so look at the blog giving dates and locations.  If you would like to help with mock interviews please get in touch with Richard Hill at CS Local.