It was a tale of two regions and two successes for Civil Service Local at this year's Civil Service Awards with both the north west team and south west's Richard Hill deservedly picking up a prestigious award each.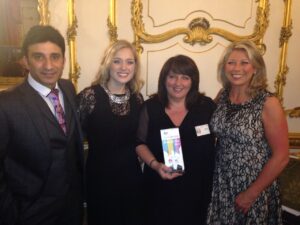 Civil Service Local North West won the Award for Excellence in Reform.
North west co-ordinator Kathie Bates told us:
We were greatly honoured to have been nominated and by Wednesday 19 November when the Awards night arrived, we were all dressed up, very excited and full of hope. It was such a privilege to have the opportunity to share such an experience with colleagues from across the Civil Service who had achieved so much. I was so impressed by the other winners, but it was really tense waiting for our category to be announced. Then John Manzoni got up to present his first trophy as the Chief Executive Officer of the Civil Service – and he presented it to us!

The award is recognition for our programme of projects and activities aimed at delivering exceptional, relevant services to the citizens who need us most. I'm genuinely overwhelmed by the impact our work has had on Senior Civil Servants.

But, none of it would have been possible without the continued passion and dedication of our civil servants in the north west of England. They volunteer, innovate and inspire on a daily basis and often in their own time. Whether it's in partnership with a school, prison, hospice or other organisation, our so-called ordinary civil servants do extraordinary things time and time again.

It's very fitting that on the same day we were picking up our award in London, Vicky Mills – one of our volunteers was at St Catherine's Hospice just outside Preston. The hospice were launching their new building, The Mill. Vicky was there on behalf of Civil Service Local North West's Government access Point project to present a cheque for £260.00. The funds had been raised at our Family Fun Day to benefit St Catherine's and another hospice – Trinity in Blackpool. We've been working with both hospices this year to bring our services directly to people who are terminally ill, as well as their friends and family. Our Fun Day was a unique event where we brought together our entire network of volunteers, supporters and friends to celebrate, share and build our community. For me, it's stories like these that illustrate what our award is all about and I thank each and every one of our ever growing team for all their contributions which enable us to make Reform a reality.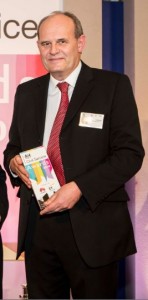 Richard Hill from the south west and Wales team won the Volunteering Award.
This was in recognition of the work Richard has done over many years to encourage civil servants to volunteer to support a whole range of charitable causes.
Richard said:
"I was very surprised, humbled but honoured to win the award.  My passion is helping people to volunteer to help others and to help themselves.  I'm delighted to be working with CS Local south west and Wales".
Nita Murphy, Local Co-ordinator for the south west and Wales accompanied Richard to the awards ceremony and said:
"it was a privilege to be asked by Richard to accompany him to the event, which was made all the more special by the fact that he won his category.  It was a very proud moment.  I'm delighted that he's putting his skills and expertise to great use by working with us".
Read what Una O'Brien has to say about the awards.
Read the background to the awards and the list of this year's winners