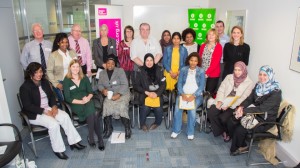 13 Civil servants from 5 departments helped Business in The Community and Oxfam Cymru on their Sanctuary Project. Sanctuary has been set up to help female refugees settle into Welsh life and to develop their skills to gain employment. The refugees come from all parts of the world and many have had traumatic experiences before coming to Wales.
As part of Business in The Community's Ready for Work programme, our volunteers worked with refugees in Cardiff and Swansea on employability skills.
The Civil service volunteers were excellent and I was able to maximise their contribution (the BiTC Trainer)
One volunteer commented
The person I worked with was a chemistry graduate who had taught maths physics and chemistry to what sounded like A Level standard. I felt quite humbled (and reflective), at the end of the day. I'm sure I wasn't alone in that response. Perhaps, if managers understand this isn't a kind of soft option or 'nice to have' extra. In fact it is deadly serious for improving the life prospects of the people involved and there is nothing comfortable or easy about some of the conversations that I saw happening. It actually provides for some real challenge and genuine personal development.  I manage a small team of relatively senior grades and I will be encouraging/having discussions as part of their developmental reviews and planning to get them involved.
Another volunteer said
being able to see the difference the event makes to women's lives is simply amazing. I met some extraordinarily inspirational women, who despite their difficult circumstances, want to make a difference in their lives and be able to support themselves and get integrated into Welsh society.
The impact on the Sanctuary women who attended the training was tangible. The pre and post event feedback indicated their confidence and self-esteem had increased considerably.
If you would like to know more about programmes like this contact Richard Hill on 03000 569410