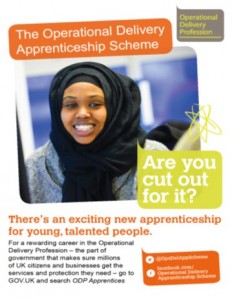 A few months ago, collegeaues from the  Operational Delivery Profession asked for our help.  They needed photographs of civil servants who worked in delivery roles to include in publicity material.  We were happy to support and put a call out across deparments and agencies for volunteers.
Ammal Jama and Max Sims, who work for the Driver Vehicle & Standards Agency in Bristol agreed to take part.  We're delighted to report that the result is that they both now appear in new publicity material which has recently been launched to promote the Civil Service Apprenticeship Scheme.
Targeting young, talented people, the apprenticeship aims to provide a rewarding career in the Civil Service, as an alternative to full-time education. The new scheme – together with the Civil Service Fast Track Apprenticeship – is open to external applicants, aged 16 or over, as well as existing civil servants or people with previous central or local government experience.
Max, HR Reward Admin Officer, finished his apprenticeship in 2012. He says
Having started off with DVSA as an apprentice, it feels good to appear in the scheme's leaflet. Hopefully I can inspire others to take part in such a rewarding scheme.
You can find out more about apprenticeships on GOV.UK