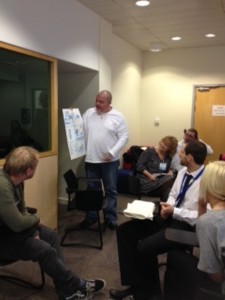 Ready for Work is an employability programme Shekinah (a charity supporting homeless people in Plymouth) use to help their clients get back into the world of work. The programme, devised by Business in The Community, offers clients a 2 day training course on employability followed by a 4 week work placement with a local employer.
Ben White, from the Land Registry, and Richard Hill, from Civil Service Local delivered the training for Shekinah and on the second day, were supported by business volunteers from 5 civil service departments and HSBC.
The 2 days training focused on key work skills including teamwork, making a positive first impression, active listening and transferrable skills. The aim is to help clients increase their self-confidence and self-esteem for their work placements. In addition, the programme gives volunteers the chance to practice different skills that they could then use in their day jobs.
Kristy Winters from Shekinah said
The training was brilliant! The clients even said to me before they left that they didn't want the day to end.
Ben White from Land Registry said
Delivering the training with Richard has inspired me to present & teach more innovatively, both at my place of work and volunteering.  Many thanks for the opportunity.
Liz Coombes a volunteer from HM Revenue & Customs said
I have never volunteered for anything like this before and surprised myself by being completely inspired, overawed, impressed and rewarded by the experience both from the perspective of what the charity is achieving and the total commitment from every single person that was in that room that day.
One of the course members commented
No one judged me, I was accepted for who I am - tattoos and all! I really enjoyed the 2 days.
The programme in Plymouth has a fantastic success rate with almost 70% of clients getting into work within 6 months. Civil Service Local plans to work more closely with Shekinah by providing Civil Service volunteers to support their work in Plymouth.
If you are interested in being involved, contact Richard Hill for more information.