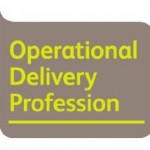 Have you heard of the Operational Delivery Profession or as it's become known ODP?
Operational delivery professionals are the public face of government and it is by the quality of the work they do that government services are judged.
If you are one of the 70% of all civil servants who work in operational delivery, then perhaps the most important question is, how does being a part of the profession support you in your career and help you to deliver a more effective service to the public? If you want to know the answer, then you will be interested in the sessions being run on:
April 16 from 10:00 am to 12:00 pm and from 1:00 pm to 3:00 pm at the Home Office, General Buildings, 31-33 Newport Road, Cardiff. CF24 0AB.
Please note that we will be running events in Bristol and Plymouth, for which registration will open shortly and they will be advertised on the blog.
The session will cover:
what the profession is?
why was it set up?
who is part of it?
how do you get more involved?
You can discover the tools and products available to help you recognise and develop the professional skills you already have, help you identify some of the skills you are going to need in the future and highlight ways in which you can develop these. You will also be shown how the profession can help you gain recognition for the professional skills you possess.
If you would like to attend the Cardiff event please ensure you have your line manager's agreement and then e-mail Valerie Cobbin stating whether you would prefer a morning or afternoon session.
Any travel expenses will need to be met by your home department. Civil Service Local is committed to ensuring that wherever possible our events are accessible to all participants. If you have any specific requirements, please let us know and we will endeavour to make any reasonable adjustments.
You can read more about the qualifications or you can visit the Operational Delivery web pages (please log onto Civil Service Learning first).