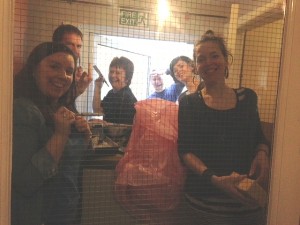 Fieldview House in Bristol is a residential home for adults with learning difficulties.  When a team of staff from Public Health England heard that it was looking rather drab and in need of re-painting, they swung into action and arranged for a team of their staff to work alongside the service users and staff at Fieldview to renovate the house.  In just one day, the house recived a makeover and civil servants and the service users worked together to get the job done.
For some of the adults who live at Fieldview, this was the first time they had met civil servants and they enjoyed the chance to meet new people and work with them to improve their environment.  This is what they had to say about the day:
I think it's fantastic that we have had that support and that we have a brighter and more welcoming environment.  We just wouldn't have found the time or the people power to have got it completed in such a short stretch of time.  Brilliant!

The volunteers were lovely
The staff from Public Health England enjoyed the day, which worked not only as a great team building opportunity, but also gave them a chance to interact with others from the local community. It helped them to see what a difference volunteering can make to those they helped.
If you would like to consider a similar activity for your organization, or you would simply like to know more about volunteering opportunities with Civil Service Local, please contact Val Cobbin