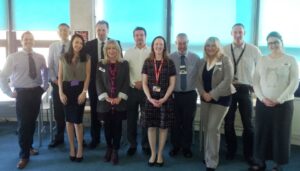 Bristol Metropolitan Academy in Bristol recently opened its doors to 13 volunteers from across the civil service who were going back to the school for the day to help deliver training sessions in employability skills.
The volunteers worked with Year 10 students, aged 14 and 15, covering topics such as working as a team, making a good first impression and the purpose of interviews.  All the sessions were interactive and involved volunteers and pupils testing themselves in some unusual ways: have you ever tried to balance a water bottle on your head whilst lying down and get up without spilling any?  That was a lesson in teamwork for everyone as well as providing a lot of laughter!  The day was a great success for both students and volunteers and the feelings of achievement at the end of the day were well summed up by teacher Tim Holmes, who said:
The mock interview day with Richard Hill and colleagues from the Civil Service was excellent. Bristol Metropolitan Academy Year 10 students gained a valuable insight into the dynamics, skills and practises to succeed in an interview. The sessions were filled with lively activities and opportunities for students to ask questions and reflect upon their learning. I highly recommend this workshop and would like to thank the volunteers for their support.
The volunteers also found themselves learning a lot from the day, and had this to say about what the event had done for them:
I now know I can work well with complete strangers under any conditions and with people of all ages - Wendy Shambrook, DWP
It really boosted my self-confidence in walking into the unknown - Louise Parcell, Legal Aid Agency
If you are interested in getting involved with similar events, contact Richard Hill  for more information.