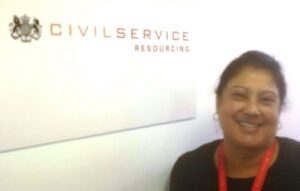 Our colleagues in Civil Service Resourcing are looking for volunteers to help them improve the experience of the WCN CS Jobs applicant tracking system (ATS).
Julie Shroff from the Digital & Design Team is looking for volunteers to participate in usability testing sessions. These sessions could include
One to One (121) discussions either Face to Face or over the phone
keeping a diary whilst using the ATS
feedback on specific tasks
If you can help with some or all of the above then drop Julie an email let her know a bit about yourself
are you a Vacancy / Job Holder or a Recruiting Manager
do you consider yourself to be a novice, competent / experienced user or even an expert
where in the country you are based (department and town/city)
This very important research will contribute to the design of the existing and new systems, making it easier to recruit the right people to the Civil service and make our jobs easier.
Initially Julie will be creating a database of volunteers that she can call upon when the various parts of the system are being looked at so you may not hear from her immediately.
This opportunity can count towards your L&D days.
Please email Julie to volunteer or to find out more.