Having enjoyed and benefited from my previous involvement with Civil Service Local through  attending the Academy and the project that followed, I was keen to find a new challenge to develop myself further and give something back. So, I joined the Communications team, primarily to help with photography and other media, but also to attend events with my trusty digital camera and blog about them.  My first job in this new role was to attend the Institute of Leadership and Management Level 5 Apprenticeship Journey Event. Without an ounce of hesitation, I jumped at the opportunity to go along and capture the development process of fellow Civil Servants.
So, on 26 January, I headed off to Southport. When I arrived at the event, there was a real buzz. As soon as I walked in, I could see just how much work and effort had gone in to preparing for the day. When the apprentices arrived, it was obvious how eager they were about the event and the Apprenticeship itself. The course, which is provided through Civil Service Local in partnership with Joint Learning involves a commitment of at least 18 months and includes workshops as well as home study. Successful participants are rewarded at the end with an officially accredited degree-level qualification. The group I met ranged from those beginning their learning journey to the ones approaching its completion. I found it interesting to hear their different views.
I've just started my Apprenticeship and am looking forward to meeting new people and networking
Ian Marston, Department for Work and Pensions
Another learner, Jacqueline McKenzie told me that she found the whole experience to be "very challenging and incredibly rewarding".
The celebration day began with an exercise to break the ice and to encourage everyone to mingle. This involved answering various questions and then standing beside the letter they thought best suited the answer. There was then an opportunity to work in groups and present their experiences of the apprenticeship journey so far. This provided a platform for individuals to share their stories. Comments ranged from the fact that the Apprenticeship increases the ability to embrace differences to being a chance for networking and developing transferrable skills that will open up opportunities.
Another Civil Service Local offering represented at the event was the Exchange to Change project. The team responsible for arranging these opportunities ran an exercise to encourage some new recruits to sign up. The Exchange to Change project includes a service called Connections which enables civil servants to pair up and form a partnership that can provide mentoring and coaching in a way that suits those involved. Exchange to Change helps arrange the possibility to experience life in a different department. We enjoyed an inspirational video featuring John Manzoni, Chief Executive of the Civil Service and there was even a chance to give feedback by writing our thoughts on paper leaves and placing them on a tree.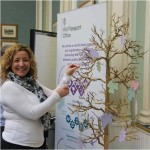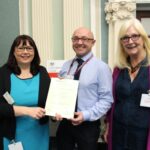 To wrap things up, certificates were presented. After a long and fruitful journey, it was clear how happy these apprentices were with the overall experience.
Throughout the day, the apprentices were encouraged to network and to continue with their learning. We may have started off with everyone sitting around specified tables but things soon got mixed up which led to an organic change to the seating arrangements by the afternoon session. Whether those involved noticed this or not, it was something that stood out for me.
One person I spoke to about Civil Service Local summed it all up perfectly:
You learn a little bit more about what other departments do and what other opportunities there are for the exchange of information, skills and networking. So far, it has been an absolutely fascinating experience and I would recommend it to anybody.
Andrew Reeves, HM Revenue and Customs