The network team members began each session by encouraging attendees to discuss some of the myths surrounding attendance, and exploded a few of them. For example: you should stay off work if you have a cold, to prevent colleagues catching it; and you shouldn't go into work if you're wearing a plaster cast. Both of these well-worn phrases were revealed to be myths.
The consistent message that emerged was that there are usually reasons for poor attendance, and they would need to be examined in order to find solutions, which was the subject of the next session. The discussions centred on how departments can help members of staff who have particular health problems. For example, reasonable adjustments such as medically-adjusted chairs or specialist computer settings can ensure that colleagues have the equipment and facilities they need to do their job, enabling them to return to, or remain in, work.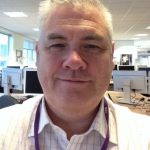 Speakers from both within the Civil Service and external organisations then addressed specific, more difficult health problems such as mental health and cancer, and how colleagues can be supported by organisations such as Workplace Wellness and the Charity for Civil Servants. Every speaker spoke passionately about how we all have a role to play in creating healthy workplaces, not just the line manager of a colleague who has a health problem.
One of the hardest things for a manager is to have that difficult conversation with a member of their team about health issues, and Janet Moore from Crown Commercial Services talked about the best strategies to handle those discussions.
The series of events was aimed at helping managers to understand that there is a wide range of tools and help available to them to enable them to make decisions and support their staff. It became clear that many of the managers shared common issues and wanted clarity on how to resolve them.
One of the key messages attendees took from the event was that managers should manage the absence and not the illness.
Ann Bhatt from employee assistance provider Workplace Wellness spoke about the services her organisation provides for civil servants at all levels, not just managers. And she later spoke positively about the event, calling it "an excellent idea" and saying "people actually listened with positive body language and were responsive."
Jan O'Connor from HM Revenue and Customs spoke to attendees about the difficult subject of colleagues who have cancer. Summing up the event, she said it had been extremely beneficial and had enabled her to work across other government departments.
Catherine Burkes from the Rural Payments Agency (RPA) is also a member of the Civil Service Local steering group.
"Today's event was excellent. It was so promising in terms of joined-up working across departments to see so many people there. It gave us all some food for thought in terms of our approach to managing absence from work and our decision- making approaches." Catherine Burkes
Catherine explained she had received positive feedback from her colleagues in the RPA:
'It's given me the confidence to challenge my manager when they're trying to steer a decision that I'm responsible for making."
"It's been excellent timing, as I have a formal meeting tomorrow and I've totally reviewed my approach and preparation for it."
"It's reassuring to know that other managers feel the same way I do with managing absence and that we all have things to learn."

"Having the various sources of support for managers was helpful and certainly opened doors for people in terms of thinking innovatively when working with people to facilitate return to work." Colleagues in the RPA
As well as increasing the knowledge of managers about issues related to attendance, the series of events also provided an opportunity for members of the attendance network to develop themselves. Arranging events in locations as diverse as Lillyhall, Blackpool, Manchester and Southport was challenging. Sarah Campbell from HM Prison Service helped organised the sessions. She said: "Setting up these events was a challenge, as this was something I had never done before. It was a great experience and has enabled me to increase my network of staff from different government departments."
Another member of the team, Karen Mawdsley from the General Register Office, spoke about the challenges she faced. "Time was a factor, trying to plan for the event as part of my day to day job." Karen was pleased that the event ran smoothly and stimulated interaction among the attendees. She said: "The event went very well and was pitched at the right level," adding "the audience fully participated in the sessions".
And after all the challenges of arranging the session, would she do it again? "Yes!"
If you'd like to join the network or just find out more about what's involved, contact Julie Smith or Nick Langford