On Tuesday we participated in Civil Service Live at the Royal Welsh College of Music & Drama in Cardiff.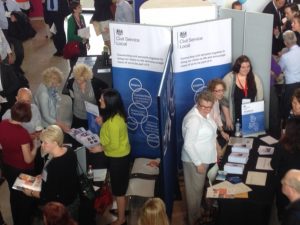 CS Live is a programme of learning events held around the country, which showcase the work of departments and give you the opportunity to hear from a variety of speakers.  It' s a great way to bring Civil Servants together to learn, network and collaborate.
The last event takes place next week in London and you can find out more here.
It was good to catch up with many people who have worked with us before and to talk to those that haven't about what we can offer. For those of you that are new to our blog and would like to find out more about what we do, here's a summary
Who are we?
We are a small national team, part of the Cabinet Office but based in the regions. Our purpose is to bring together departments and agencies to deliver actions and opportunities that bring the new vision for the Civil Service to life.
Reasons to get involved
Gain new competency examples for promotion or a change of job
Use your 5 a year learning and development days
Network with others and find colleagues doing similar work in other departments
Use volunteering days to get out in your local community and help others
Here are some examples of ways we get people working together across departments:-
Networks – these are for staff working in a particular job role who want to share ideas with others in the region.We currently have Staff Engagement, Continuous Improvement, Shadowing/Interchange in South Wales, Attendance Management, Recruitment & Redeployment, Volunteering and Learning & Development.  There is also a network called One Exeter for all departments in the city.
Job shadowing – spend a day shadowing someone in another department in the south west or Wales, or offer to be shadowed yourself.
Volunteering – we offer different ways of using your volunteering days to support school pupils and vulnerable citizens.
Discovery sessions– these are short (usually ½ day) training sessions, open to all departments and on topics common to all.
Academy – a residential development programme for junior staff with potential, which leads to working in teams for 12 months on a project.
Where to find out more
Sign up for email alerts from the blog, by clicking on the sign up for updates link on the right of the page, or contact us Nita Murphy Co-ordinator, Heidi Stephens Assistant Co-ordinator.