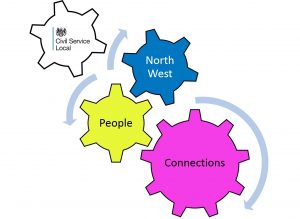 We're re-launching our People Connections Programme across the North West. You'll have chance to network with colleagues from different Departments through a variety of activities:
• Shadow 'n' Share Days – spend a day in a different Department and invite them back to visit your office
• Business Buddies – link up with an experienced colleague to meet regularly and discuss personal or career development
• Placements – spend 3-5 consecutive days in another Department
• Secondments – longer term development opportunities within another Department
You can count all of these as part of your 5 days learning and development each year.
Interested? Have a look at our leaflet for more information then have a chat with your Line Manager as you'll need their approval for time commitment and travel and subsistence expenses before you apply. Then, complete a Registration form and return it to jo.nunnerley@hmrc.gsi.gov.uk.
Civil Service Local is committed to ensuring that wherever possible our events are accessible to all participants. If you have any specific requirements that will enable you to fully participate, please let us know and we will endeavour to make any reasonable adjustments.