I recently joined the comms team on CS Local and attended my first discovery event on 6th February at HSE's Redgrave Court in Bootle. It provided an insight into the future of the Civil Service, valuable networking opportunities and the chance to learn about various Civil Service departments from the people who know best – their employees.
 The event was opened by CS Local, swiftly followed by special guest speakers from the Civil Service Strategy and Governance Team at the Cabinet Office, Jonathan Pearson and Laurie Martin. The speakers gave a fascinating presentation based around our organisation's vision of 'A Brilliant Civil Service' working toward improved outcomes, providing effective leadership, a continued drive to upskill our staff and provide a great place to work for our employees. The ways in which this can be achieved were also discussed such as the Service's aim to become the most diverse organisation in the UK by 2020, and to see a rise in public trust in civil servants by building recognition and enacting visible, positive change.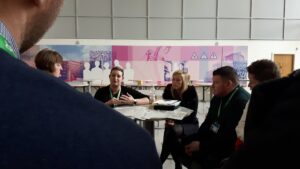 Civil Service Local representatives also provided information on the wide range of development opportunities the programme provides across the North West and UK. For those who are interested, further details can be found on this blog or you can speak to your manager or contact CS Local directly.
Once presentations were over, the audience were arranged into groups and invited to take part in a speed-dating style event which provided the chance to learn more about Other Government Departments from employees across several sites, all based in the same city region. These contacts from the likes of HMRC, DWP, DBS and GIAA were more than happy to discuss their personal experiences and answer any questions that individuals in the assembled groups put forward.
A NW People Connections session was also provided to discuss the programme which seeks to offer cross-departmental opportunities across the region. These include Shadow 'n' Share Days (either to host a colleague or shadow them), Business Buddies, Placements and Secondments. If you are interested please let us know.
I really enjoyed the event and would encourage you to attend one, it was very informative and I can't wait till the next one.