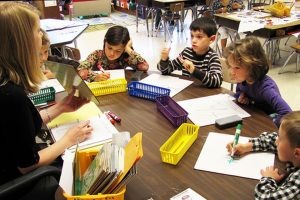 My name is Kelly Courtney and I work for HMCTS in Swindon.
When I was sent a link from Civil Service Local from my manager asking for volunteers to get involved in the Primary Schools Project, I jumped at the opportunity. This is something that resonates with me as I am a Parent Governor of my local school which my two children attend. I am very aware of the struggle schools are having with specific topics. One of the topics is British values and I felt this is where the Schools Project would fit in perfectly.
I contacted the CS Local's Citizen Engagement lead, who sent me a framework for the sessions and talked me through the presentation. I contacted a few schools in Swindon advising them that we would like to do a 45 minute interactive presentation on "Why We Go To Work". I asked for volunteers from within my team and initially had four very willing participants to assist me which was great!
Our first school was booked for 10th November 2016 and involved two classes of Year 5 students. I spoke with the class teachers beforehand and went through the presentation. They were very excited which I found encouraging and naturally put me at ease. I was now really looking forward to the presentation. The presentation went fantastic! The students loved it and so did the teachers. The feedback we received was brilliant! The volunteers all said they thoroughly enjoyed presenting it and they all felt a real self worth and felt that they had achieved something really worthwhile.
The enthusiasm went through the office and more volunteers offered to present to other schools. More and more schools emailed me to ask if we could present to their students. We have now been to five schools and have sessions arranged with four more.
This has been a really amazing, worthwhile experience for me. Not only am I helping schools and students achieve their goals but also hopefully raising aspirations and changing the way the students think about their future. Along side the schools, I have also helped my colleagues step outside of their comfort zone, some have found new opportunities to use their 3 days of volunteering and are realising their full potential. I know I have grown through this experience and I am also realising my full potential. I hope this continues to develop as we go forward with this project.
For more information on how you can get involved with the Primary Schools project, please contact Louise Ferris.