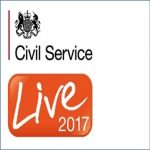 Civil Service Live is the government's annual, cross-departmental learning event, attracting thousands of civil servants to events across the country to learn, network and share best practice - with the ultimate goal of providing better public service. The conferences offer engaging, interactive and thought provoking sessions, led by dynamic, expert and inspirational speakers.
Content at the events will focus on the four themes of the vision for 'A Brilliant Civil Service' -  Improved Outcomes, Effective Leaders, Skilled People, and A Great Place to Work, and will highlight the progress made towards these. A fifth theme has been introduced for 2017, Global Britain, to provide more international context.
This year Civil Service Live will visit 6 locations across the UK and registration is open. Check with your line manager first and then to register, just click on the link for the location you are interested in.
Thursday 15 June 2017: Manchester Central, Manchester
Tuesday 20 June 2017: The Sage, Gateshead
Thursday 29 June 2017: City Hall, Cardiff
Tuesday 4 July 2017: EICC, Edinburgh 
Thursday 6 July 2017: NEC, Birmingham
Tuesday 11 and Wednesday 12 July 2017: QEII Centre, London
As well as attending as a delegate, there are other ways to get involved. Spot mentors and volunteers are still needed, so  find out how to get involved.