We have a number of opportunities to support vulnerable young people in the north west– whether you can commit to half a day or 6 weeks, there is something for everyone.
Our Further Education programme works with college students aged 16-19 and promotes the Civil Service as a potential employer, showcases the different departments and career options opportunities the Civil Service has to offer. We support students' employability skills by helping with CV's, interview preparation, competencies and give mock interviews. Work place visits are also organised under this programme.
The programme runs for 6-8 weeks with one 2 hour session per week. The sessions take place at a mixture of locations, either at the college or different civil service offices in the local area.
Locations available: Liverpool, Blackburn, St Helens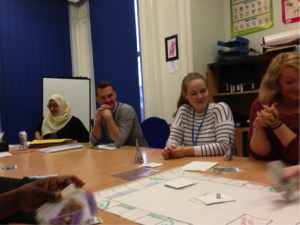 1 day event in Blackpool: 
Blackpool Sixth Form are looking for civil servants to facilitate a 1 day market stall event for students to learn about the Civil Service. Each stall will provide different information about Civil Service careers, such as the fast stream and apprenticeships.
Other ad hoc requests: 
Locations available: Blackpool, Liverpool, Manchester, St Helens, Blackburn
Careers fairs at colleges - hosting a stand about the Civil Service
Employer talks – talk to students about your career journey and give career guidance and advice
Mock interviews – give students the opportunity to practise interview questions
You don't need to have any experience of working with a school or college, just passion and a commitment to helping young people. In return, you'll develop your influencing and leadership skills, collaborate with external partners, and participate in an exciting, innovative programme that will shape the lives of young people in your community. With all of our programmes, we support the most vulnerable young people, to raise aspirations and support skills for life and work.
A recent volunteer from HM Passport Office said: "I don't get the opportunity to work with other members of my office and it gave me a chance work as a team and consider other peoples opinions and ideas. It increased my confidence and team working skills"
If you are interested in any of these opportunities please contact Donna Blyth with your preference and location here.
We also have a number of opportunities to work with secondary and primary schools. Want to find our more? Come along to our 'Volunteering' Discovery session on 13th November, keep an eye on our blog for further details.