Dress up, eat cake and help make the world a better place! - That was the challenge issued to us recently at Burnley Benefit Centre back to support our 'Engaging Our Young People' schools project.
I spoke about it to the project co-ordinator, Helen Warren who told me "Colleagues responded with an amazing generosity matched only by their capacity to eat cake. The Staff baked a feast of delights served with coffee, to colleagues."
Our school project will be prepared by Benefit Centre staff volunteers – and delivered by them to help equip Year 9 pupils from a local secondary school Shuttleworth College to meet the challenges they'll soon face starting out in the world of work. It may be a while back, but I remember how that feels. I wanted to know what challenges face the project team, so I asked Shaz Chaudhary, who said "Our challenges will be to help raise awareness and expectations among young people from our local community, particularly where these may have been limited due to social factors, and also to generate funding for an initiative which has no budget of its own."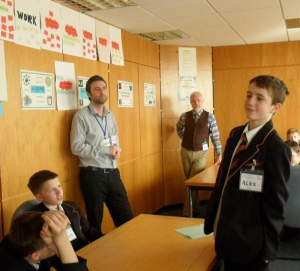 On the day, the Centre Manager, Sandra Marks told me that the programme aims to tackle the extent to which underlying social issues can impact on the aspirations of young people. The event actually raised over £200, which impressed me greatly.
It also strikes me as entirely fitting that Burnley's Engaging Our Young People project - which is part of the Civil Service Reform, Social Justice Programme - is being delivered in association with a school which derives its name from the renowned, Nineteenth Century pioneer of Social Justice, Sir James Kay-Shuttleworth.
Civil Service Departments interested in developing their own schools projects can contact Tony Jennings - tony.w.jennings@dwp.gsi.gov.uk - who will provide the relevant advice and guidance.