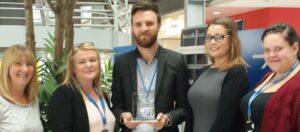 I work in the Pensions Directorate Planning & Support Team in Tyneview Park. In 2013 I volunteered to work with the Engaging Schools initiative in the Sunderland area and successfully led a group of volunteers from a variety of government departments at Boldon Comprehensive School.
As programme lead I started by forming a collaborative relationship with the school to ensure the sessions delivered were relevant and effective. We agreed on two employability sessions, CV Building & Interview skills and The Civil Service and Benefits Culture and delivered these to 160 Year 10 students. These were diverse sessions and covered not only skills to help young people into work after education but provided an awareness of the Civil Service and specifically the Department for Work and Pensions (DWP).
We included interview role play exercises and a money exercise based on calculating personal budgets comparing life on benefits and life at work. The sessions were interactive and my team encouraged the students to participate fully to ensure they really gained from the activities. The pupils gained an insight into the world of work which helped them to consider their future careers as well as supporting the Governments Employability Agenda aimed at breaking the Benefits Culture. 
"The project with the Year 10 pupils was a great success and we got some very positive comments such as
'The sessions have encouraged me to find employment; they have made me more confident'
'I found the sessions really useful, they changed my thoughts about benefits and the money you get'
This resulted in the school asking me to deliver the sessions to 120 Year 11 students as well which was fantastic and a real credit to the work of my team. It's hard work but so worthwhile I wouldn't hesitate in recommending people to get involved.
As an added bonus on 1 October I was awarded the Benefits Directorate Innovation Award, chosen by Director Jason Feeney, for the work undertaken with the Engaging Schools programme.
To find out more  about volunteering for a CS Local School project and to request  an expression of interest form to apply please contact Anna Bradley