On Friday 6 February 2015, Civil Service Local were delighted to host a visit from our recently appointed Chief Executive Officer of the Civil Service, John Manzoni. The last time he met our team, back in November 2015, he very kindly presented us with the Civil Service Award for "excellence in reform", so he was keen to come up north to meet the people who help us make reform a reality in our area.
Many of the volunteers we rely on to deliver our programme spoke with passion and enthusiasm about the projects they are involved in. We also enjoyed a presentation from Cabinet Office colleagues about the Civil Service story which was new to many of us there and very informative.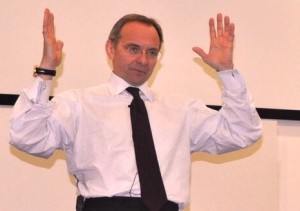 As well as spending time with the teams, John shared his vision for the future Civil Service and set out his main priorities which included more collaborative working between departments and reducing the planning burden we place on our people.
His approach was open and honest, reinforcing that
Civil Service Local is a great  example of how the whole civil service should work together – efficient, effective and joined-up
Some of our other visitors were happy to share their thoughts and feelings:
I thought this was an oasis of inspiration when there is so much negativity kicking around about Civil Service Reform.
John Berry, Valuation Office Agency
A brilliant initiative for the long-term, bringing a diverse Civil Service together.  We have so much in common and Civil Service Local helps us tap into that.
Mike Howe, Her Majesty's Revenue & Customs
Brilliant for getting good outcomes for departments, breaking down barriers, promoting efficiency by working together and full of fantastic development opportunities.
Becky Challinor, DWP
A great group to be involved in.  Networking opportunities are endless.  Opened my eyes to the whole Civil Service in the north west..
Simon Morton, Food Standards Agency (FSA)
Simply the best thing I've done in my career – it's great.
Chris Hare, Land Registry
We ended the day in typical interactive style, inviting our guests to take part in a World Café to discuss Civil Service reform in the north west. Carmen Thompson, a Work Coach from Rochdale Job Centre summed up the day by telling us:
I felt the event was very informative and I have now signed up to Civil Service Local as I would really like to get involved! I feel as though I've been missing out on something fantastic!
You too can make sure you don't miss out by regularly checking this blog for opportunities to get involved. You can also look in our newsletter which we launched last week. News by North West is sent out every other month, focusing on different aspects of people development, cross government collaboration and working with our communities. If you live and work in the north west and haven't yet seen a copy please do let me know so I can add your office, department or site to our distribution list.
Thanks.