Twelve year 10 students from Maghull High School have just completed a 6 week Inspiring Young People project with the help of six volunteers from Her Majesty's Revenue and Customs (HMRC), Comben House office. The pairing of students and civil servants met for two hours of mentoring each week. Our team designed a project which aimed to introduce their young mentees to the world of work. It went a bit like this:
Week 1  This was informal and included a brief overview of HMRC and its various roles as well as a tour of the building.  They then broke up into teams of six and were given 100 balloons, a ball of string, a roll of adhesive tape and a pair of scissors for an ice breaker.  The object of the icebreaker was to make a balloon tower that would stay up with no extra help. This gave the students and mentors the opportunity to get to know each other in smaller groups rather than sitting in a large group around the table.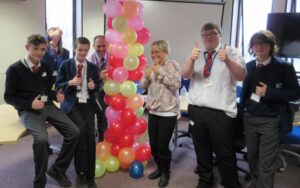 Week 2 This was all about CVs.  We had planned to go straight into creating them with the students, but one student then asked what a CV actually was and we realised that we really did have to take things right back to basics.  Once we explained what we meant and what it would be needed for, we took the students to our desks and typed up their CVs using their predicted exam grades and any work experience they had.
Week 3  We looked at application forms and how to fill one in.  We made up five 'pretend jobs' that the students picked to apply for and helped them complete an application form for that type of job.  Again, we brought the students to our own desks to type up their forms.
Week 4  This was about interviews and we included a short role play by two mentors showing the students an example of a bad' interview then an example of a good' interview.  The students then split up into three groups and two mentors interviewed them using four basic questions to give them experience of an interview.  Feedback was provided to each student after the interview.
Week 5  This was about the students' dream jobs.  Speaking to them beforehand about their future aspirations, we provided them with a job description, an idea of the salary ranges and what qualifications they needed.  This was followed by a questions and answers session about our own jobs, salaries and how we manage our personal finances.  This was an eye opener for the group as they hadn't quite realised how money doesn't really go that far in this day and age!  The students then had the chance to spend some time seeing what we did in our own jobs.  They were amazed by our total amount of financial losses prevented and pleased to see that HMRC works hard to prevent fraud and error.
Week 6  This was a time to celebrate - the students hosted the event back at school.  All mentors attended along with their managers. Our new graduates gave a presentation and used some slides created on a computer to demonstrate what they had learned from us. They were all presented with a certificate to confirm they had successfully completed the Civil Service Local Inspiring Young People Secondary Schools Programme.
Overall, as a team of mentors we got so much from the project and the students themselves. During that very first week we were all very nervous both about meeting the students and having to talk publicly even though nearly all of us have children. By the end of the sessions, we were totally relaxed and now feel more confident about giving talks or presentations.  By the last week when the students gave their presentation to us, it was very touching to hear them say that they had enjoyed every week and how much they had learned from us. In fact, a few of the girls were a bit emotional and even asked if they could do it all again.  As mentors, we thoroughly enjoyed it too and even though it was hard work, it was lovely to see the students grow and we could see the  confidence levels rising week by week, especially during the mock interviews. This was something that we didn't think would happen after the first week as they were very self-conscious and weren't comfortable engaging with each other let alone a bunch of  strangers. It just goes to show what can be achieved in just six weeks!