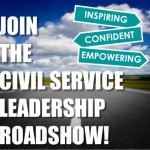 The Civil Service Leadership Roadshow came to Birmingham on 5 May.
The theme of this session was the Leadership Statement, what it means to us now and what it will mean in the future. It was hosted primarily by the Cabinet Office Collective Leadership team but there were also 2 senior civil servants in attendance, Clive Maxwell, Director General of the Department of Energy and Climate Change and Jonathan Slater, Director General, Transformation and Strategy at the Ministry of Defence.
It was an enlightening session with Clive and Jonathan sharing their experiences of leadership - what good leadership looks like and how it links in to the civil service Leadership Statement. Jonathan explained empowering your team means to trust them and give them space to do their own thing. Throughout the session Clive and Jonathan continued to share tips from their leadership experiences and joined in with the smaller group discussions.
We were introduced to the Leadership Statement by Laura Sukhnandan of the Collective Leadership team who explained why a statement was needed and how it had been formed following a number of focus groups to seek the views of staff on what civil servants want from their leaders. The message was clear, whether we lead people or not we should all be aspiring to the Leadership Statement.
We were then presented with the 3 key concepts behind the refreshed Talent Action Plan and Championing Difference, led by Deborah Brooks from the Civil Service Diversity and Inclusion Team:
Challenge
Champion
Change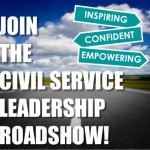 The session was very lively and interactive; there were a number of opportunities to break into smaller groups to discuss what the Leadership Statement and Championing Difference mean for you and your team and how to put it into practice.
I found the session very interesting and it was good to get another leader's perspective -
Katie McCann, Department of Transport
At the end of the session each delegate received an information pack and a pledge card to take away with them.
I pledge to challenge inappropriate behaviour, promote the Talent Action Plan through my role as Staff Network Group Chair, and be a role model for the Statement
Nadeem Aziz, Driver and Vehicle Standards Agency