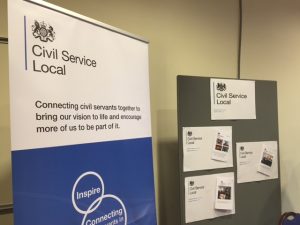 I recently joined Civil Service Local as an assistant co-ordinator for the midlands on secondment from HM Revenue and Customs. I didn't really know what I was getting myself into when I applied for the post. But as I had recently done some volunteering through CS Local I thought the type of work they were involved in was really worthwhile, not only for staff development and general engagement across the civil service, but also a chance to give something back to the community.
Within my first week of joining the team I was blown away by the amount of things they were involved in and just how many staff they had the opportunity to reach out to.
The team were extremely busy as they got ready for Civil Service Live. It was the first time in a few years the event was back in the Midlands.
I had been to Civil Service Live before and thoroughly enjoyed mooching around all of the different stands building up a picture of the wider civil service. However, I had never been involved in standing on a market stall to promote the work I was involved in, and this terrified me as 13000+ civil servants were scheduled to be there.
The day before Civil Service Live, I went along to the Ricoh Arena in Coventry with the 3 members of the team and 1 volunteer. We were packed up with roller banners, posters, leaflets etc. which is when I realised we didn't just have 1 stand at Civil Service Live, we had 3! We spent the afternoon setting up our stalls to entice our audience, which isn't easy when you are on a budget and positioned next to an all singing, all dancing comms hub!
The following day was an early start and when I entered the hall there was an instant buzz. All the stands were up and manned, the room began to fill.
The rest of the day was a bit of a blur, I spoke to countless people promoting the work of Civil Service Local, with the majority signing up to our monthly bulletin.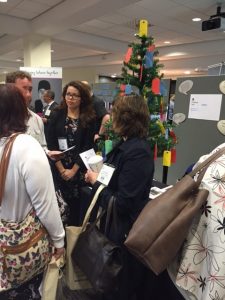 Although I was exhausted by the end of the day, promoting Civil Service Local hadn't been difficult. The offerings they have and the work they do across departments is fantastic and was an easy sell to my civil service colleagues. I was overwhelmed by the enthusiasm of not only the team but of the volunteers that had come along to support us and man our stands.
Although I was slightly terrified at standing on a stall at Civil Service Live for a team I had only just joined, I can honestly say I really enjoyed the experience. Civil Service Local Midlands team are great, they have really welcomed me into the team and are passionate about the work they do.
I can't wait to see what the rest of my secondment brings!