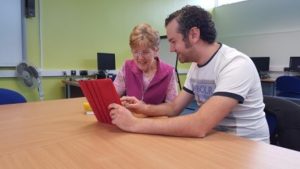 Civil Service Local in partnership with the Office for National Statistics are looking for volunteers to help with their Digital Fridays, to help digitally excluded customers to get online. The ONS have been working in partnership with Newport City Libraries to provide digital drop-in sessions in four libraries across the city. They need additional people to add to their pool of volunteers.
You don't need to be a computer whizz to take part in this rewarding activity- just have some patience and a willingness to help others learn some basic IT skills.
Locations and times:
Ringland Library - Friday 2pm to 4pm. This session runs each week as it is the busiest.
The following sessions are held fortnightly
Rogerstone Library – Friday 9.15am to 11.15am
Central Library – Friday 2pm to 4pm
Bettws Library – Friday 9.30am to 11.30am 
You will help customers develop the basic skills they need to be confident online. This will involve guiding them through the basics and answer any general queries. Some of the things you may help with will include:
Sending and receiving emails
Using a search engine
Searching for jobs
Browsing the internet
Identifying and deleting spam
Setting privacy settings
Filling out online forms
Online Security
For any additional information please contact Louise Ferris. If you wish to apply then please ensure you have your line manager's agreement and then email your availability to Louise or telephone 01752 618201.  Any travel and subsistence costs must be met by your home department.
Civil Service Local is committed to ensuring that wherever possible our events are accessible to all participants. If you have any specific requirements that will enable you to fully participate, please let us know and we will endeavour to make any reasonable adjustments.