On 14th March, Civil Service Local North West's flagship careers event, Changing Horizons, branched out into Oldham's Queen Elizabeth Hall following its Blackpool successes in 2017 and 18. As with Blackpool, Oldham is one of the lowest areas of social mobility in the country which made it a particularly important home for the event. Both teachers and students alike were quick to point out that they were grateful for the opportunity.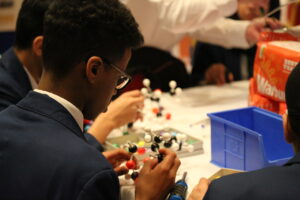 Oasis Academy students confirmed that they had "great fun" and really enjoyed the teamwork aspect of many of the available activities, whereas several employers such as Border Force and Saddleworth Air Cadets had interactive activities from learning how to administer first aid using a dummy to plumbing a toilet – which proved to be a big hit with many of the children.
Chris Perkin, Assistant Head Teacher at Newman College in Oldham told us:
"I think it's great that [Civil Service Local] have managed to get so many different people here to give an experience to the students that they don't normally get… I do think that the students we've brought with us have been very, very engaged and there's been a really good wide variety of things to keep their interest and to spur them on a little bit."
Highlighting its importance to the area, a collective of local dignitaries joined us for the event including the Enterprise Adviser Network's Oldham lead Michaela Andrew; High Sheriff of Greater Manchester, Gerry Yeung OBE; and Oldham's Lead Member for Education and Early Years, Cllr Amanda Chadderton, who opened the event by directly acknowledging the needs of the students in attendance.
"I know how important this type of event is to you. Each time our Children in Care Council and the Youth Council are balloted additional careers advice and support and skills to be life-ready and work-ready are always things that come out at the top of what young people in Oldham say they want more of… We want you to go home this afternoon knowing that you can achieve anything you put your mind to."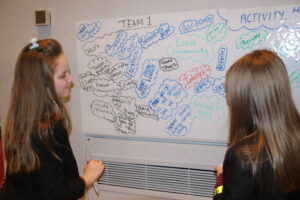 Charlie from Oldham Job Centre (DWP) joined the event's more than one hundred-strong Civil Service volunteer team as a guide, and felt that the event had gone some way to achieving this objective.
"The first thing I asked this morning was 'Okay, what do you want to do when you leave school?' [They said] 'I don't know'. I've just asked my group who I've been with all day today and every single one of them has an idea. They all have an idea about something they saw today that they've loved and it's inspired them."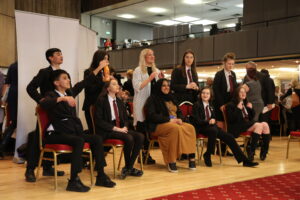 Leah from local business, First Choice Homes Oldham said the event was "massive" for the deprived area and echoed Charlie's thoughts on the students' burgeoning aspirations:
"It's been a really good atmosphere and the kids have really enjoyed all their tasks – they've been really enthusiastic about it. It's quite nice asking them, 'what job do you want to do in the future?' and they've come out with 'I wanna be a social worker', 'I wanna be a dentist', I wanna be a veterinarian' and it's so nice hearing that they've got aspirations and it's lovely to hear."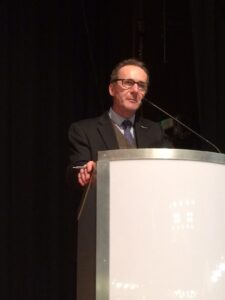 In closing the event, Andrew Sutherland, Oldham Council's Director of Education and Early Years furnished the students with a few words of cautious optimism.
"I hope that you've learned today that for you guys to predict your future is to create your own future. No-one will give it to you. It's not a dress rehearsal. This is your life. Please take from today what you can, learn from it, move on, choose great careers, and I hope you look back fondly on this event that hopefully stimulated you, gave you some ideas that you haven't had before and hopefully made you think "yeah, I can do this".
As many of our guests and stallholders reported, there was a real "buzz" of positivity in the room – which seemed to confirm that for some students from Oldham at least, the event achieved just that.