The school term may be over, but in the north west we're already looking forward to another successful year for our Inspiring Young People programme (previously known as Engaging our Young People). Find out more about our work with secondary schools . . .
---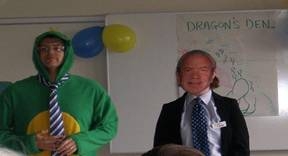 Since 2012, we've been working in partnership with secondary schools in the region to help prepare their students for the world of work through a series of programmes that last six weeks. Twenty one projects later and the huge success of this programme is quite clear when you speak to any of out mentors or students.
I have learned about good and bad customer service, what to include when writing a CV and what to do and not to do when at an interview – all whilst having fun
The projects do focus on building skills for finding work – things like filling in application forms, creating a CV and how to prepare for a job interview. But it's usually done in a more creative way to add some fun to the classroom. Themes have included 'I'm a student get me out of here', 'The Apprentice', and 'Big Brother' to name a few.
The programme was praised by the Head of the Civil Service, Sir Bob Kerslake and other Senior Civil Servants. Our colleagues who took part were also very positive in their feedback:
Mentoring is so rewarding and I enjoyed being taken out of my comfort zone. It's the best fun I've had in work for years
---
Civil Service Local North West is looking for new departments and new secondary schools to get involved. If you think your department may be interested in this fantastic opportunity or you have contacts in a local secondary school, please send me an e-mail.