If you've got project management experience, then I've got a great opportunity for you! I'm looking for project coaches to help this year's Academy delegates develop themselves further, whilst you get to hone your coaching skills.
---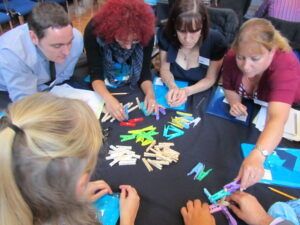 I'm busy organising this year's North West Academy – a residential development programme for future leaders from across the civil service and public sector. This autumn, I will need your help to support 80 delegates work together in groups on innovative new projects that will help us make Civil Service Reform a reality in our region and beyond.
At the end of September this year, the Academy team and I will meet the new "families" that will take their projects forward over the following year. Our families, as we like to call them, will be groups of individuals from a wide mix of departments and public sector organisations, thrown together to learn new skills, increase their confidence and create their own projects. They then have a year to work on their project. Our delegates may be completely new to both Civil Service Reform and working on a project. It's my job to make sure that the Academy gives them a grounding in reform, but I need your help to give continued support as our families bring their project ideas to life.
---
I need to find five enthusiastic volunteers to support two projects each. I'm more interested in how much project experience you have than in what grade you are, so let me know if you think you're the right person for the job. The role calls for regular support, the ability to give coaching on basic project management techniques and to be that vital link between the families involved and their senior project sponsor. Read the Project Coach profile for more information.
---
Expressions of interest
The position would suit a full-time (for around half a day a week whilst continuing their normal duties) or a part-time worker at either SEO or HEO level, but as I say, other grades will of course be considered based on evidence of the relevant experience, behaviours and skills. The projects run for 12 months, but may be extended as appropriate.
If you think this may be the opportunity for you, please email Julie Doughty who will send you an Expression Of Interest form. Alternatively you can complete the Generic Civil Service Local Application Form and you need to include references to the competences listed in the role profile and your existing project management experience. You will also need to get your Line Manager to commit to releasing you on the 4 specific dates mentioned in the profile. Expressions of interest should be returned by the closing date of 22 August 2014 via email to Julie Doughty