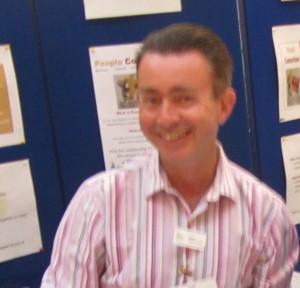 North West People Connections co-ordinator Peter Warren-Jowett shares his thoughts with me about our successful partnering programme which pairs up civil servants to learn from one another. He's been so impressed that he's now signed up himself and will be giving us regular updates on his progress right here.
I asked him how he got involved and what his role as co-ordinator entails:
I'm part of the CS Local Continuous Improvement Group which made me aware that there's a world beyond my own department. I was keen to learn more and to get involved which led to me working on the Mentoring Programme which finally evolved to become People Connections.

It's been a wonderful opportunity giving me the scope and freedom to develop new skills and learn about reform. I am seeing the bigger picture and playing a part in developing others as well as my own development. The pairings are never random - partnerships are created taking in to account individual needs, experience and location.

For me, the greatest success is that we now have this programme working across departments which offers more than mentoring alone. The hardest thing is finding the time - I'd like to do this full-time if I could. But I have to admit that it may not be for everyone but you don't know until you try.

Having designed and developed the process I was eager to give it a go myself to test it out and have now found the right partner. I look forward to sharing my progress with you all. . .
So that's the co-ordinator's view - but what do participants think?
I wanted to make contact with an experienced member of the civil service from another department to learn more about the skills needed in different roles. I was paired with Andy and we met over coffee. It was neutral and informal which helped us have a frank chat about our objectives and goals.

Paul Cushion

It's proved to be invaluable and helped me to build my skills set. During the experience, I successfully applied for the Fast Stream, completed my Managing Successful Programme Practitioner exam and secured a Grade 7 post in HMRC. I also shared HSE workingpractices with Andy. My expectations have been surpassed but we agreed to continue with the programme as it's been so worthwhile and there are more challenges ahead.
Paul was partnered by Andy - so what did he think?
This is a great tool to help develop people by sharing knowledge and experience and is an excellent vehicle to help people look at issues from a different view.

There's also a great feel good factor to getting involved and seeing someone else develop in their career. It's also made me appreciate the breadth of talent we have out there across our departments.
Andy Jones
You can learn more about the programme by looking at the People Connections Leaflet or contact Peter Warren-Jowett.