We are always interested in hearing about you and your job as a civil servant. If you would like others to hear about your own experience, please email your own write up and a photo to donna.donaghey@hmrc.gsi.gov.uk
Leilah Amos has just joined the civil service as a fast streamer and would like to share her initial experience with you.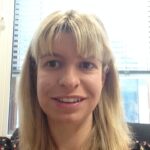 My name is Leilah Amos and I'm a First Year Generalist Fast Streamer. I have just started my first placement in UK Trade and Investment, as part of the Strategy, Policy and Evaluation Team.
I have two main responsibilities in my role: The first is to implement a process to source and verify foreign direct investment projects which have landed in the UK, but have not been assisted by UKTI, using intelligence databases and partner networks. The second is a project which involves the monitoring and evaluation of pilot contracts delivering foreign direct investment from emerging markets, including Russia, Latin America, the Gulf and Eastern Europe.
My experience so far on the Fast Stream has been really interesting. In the first week, we had an induction course in which we attended a number of training courses, including 'Understanding Government'. This really provided me with a good understanding of my role as a civil servant and how this fits in with the wider government objectives. In addition, a number of key influential figures gave us some very useful advice for our roles in the future. We were given lots of chances to have any questions about the Fast Stream answered, as well as meeting many interesting people. Overall, this has helped to give me an overview of the exciting opportunities and experiences that our journey in the civil service might entail.
Starting in UKTI was certainly a steep learning curve, as my background is as a primary school teacher, however I felt really supported by my new team and I soon felt like I was getting up to speed with my new role. So far, I have already built up a lot of new skills including using detailed analysis of information from intelligence sources, as well as problem-solving to work out how our project can run most effectively. There have also been good opportunities to establish relationships with different networks in the teams and I have been practising negotiation skills to ensure that all partners' needs are met throughout the project. I'm really looking forward to starting my next project, and while I think that it might be a challenge, it will give me a lot of experience in different areas and valuable skills to take forward into my next role.
One of the best things about joining the Fast Stream has been networking with other Fast Streamers and finding out about the breadth and range of different experiences that have been offered to people. There have been a lot of social events and activities organised and we are part of a number of groups, meaning that everyone has a chance to share their worries or anxieties. A particularly interesting opportunity that has been given to us is 'The Fund', which is our corporate objective and involves us planning different fundraising activities for our chosen charity. This has given us a chance to meet people across different departments, as well as providing a different way to exercise some of our skills. Overall, I am really pleased to be part of the Fast Stream and I am hoping to make most of all learning and development opportunities that we have been offered.