This was my first Discovery Session and I didn't know much about Huddle so was keen to find out more. Conor McColgan explained to the audience that Huddle is a cloud on the Internet to store, manage, and process data, rather than a local server or a personal computer.  The cloud uses consumer tools like Dropbox and e-mail as well as enterprise tools such as Office. It sounds like it could have huge benefits for Government, not only financially but also in allowing us greater freedom to develop and share our services. It gives us the opportunity to compete on a better commercial footing and is a key driver in improving the government's Digital Agenda.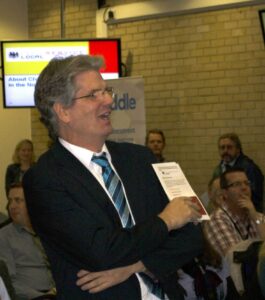 One of the advantages would be enabling us to file share across government departments. I was particularly interested in this as I've just embarked on a new year-long project with colleagues from other departments and it'd be great to be able to share information in this way. I did wonder about the security implications but was assured that security is an important feature and all documents are encrypted to prevent hacking. There's even a greater security version available on the GSI network for the Foreign Office to use. There's also a cost involved as the service is chargeable.
I was very interested to hear about some of Huddle's success stories in government, which include the Department for Education who used Huddle on their schools building project across the UK, worth £3.1 billion, to manage supplies and create an auditable and secure environment. Civil Aviation used Huddle to work on the strategy around further airspace, they liaised with the Ministry of Defence, airports and airlines to create a single point of access when required.
To sum up, Huddle is a dynamic tool and I'm told it's available as a "beautiful mobile app to share and go".  Huddle is a simple and secure collaboration to enable true digital transformation.
I enjoyed learning about this topic and it's left me hopeful about the future of IT Reform.