We have made contact with several colleges and are now recruiting more volunteers to help support our Inspiring Young People - Further Education programme (previously known as the Engaging Our Young People Career Academies programme). Find out what opportunities are available and how you can get involved…
---
The aim of our Further Education programme (Career Academies) is to raise the aspirations and employability skills of 16 to 19 year old students studying for A-levels or equivalent qualifications.
We'll be running the programme at the following locations:
Blackpool, Liverpool, Blackburn, Darwen, Nelson and Colne, Salford.
---
How you can get involved:
 Become a Partner in Business (Mentor)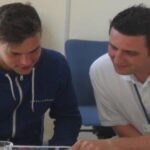 Mentor a young person through 10 one hour-long meetings over 18 months at their college or your workplace as they study a course equal to three A-Levels to:
• be a guide and supportive, but objective, friend
• help them prepare for employment or more study
• help develop employment skills, people skills and boost a young person's confidence and self-esteem.
 I feel mentoring has helped me to address different situations in a positive way, by helping the student to find solutions to his problems
Volunteer
---
Guru lectures and workshops
Give inspirational talks to students at college or in the workplace. Topics can range from industry specialist areas and professional experiences, to career paths and CV writing or interview tips.
The guru lecture was very helpful and will be useful for me in any future interviews I have.
Student
---
Host a work place visit
Would you, your department or a team of people be able to host a workplace visit and show a group of students around your workplace? Prepare a presentation or conduct a workshop with them in your workplace focusing on your department, career prospects and what employers look for?
 "The tour was very interesting for the students, the fraud talk and real life examples really enthused the students." - College  teacher
              "The best part was walking around the offices and seeing how people work." - Student  
For more information, please e-mail me.