Parliamentary Outreach Officer for the East of England, Sharon Stanley, led a fascinating Discovery Session at Eastbrook, Cambridge on Tuesday 12 November. The audience consisted of a group of civil servants from departments and agencies as diverse as HM Revenue and Customs (HMRC), the Department for Work and Pensions, the Department for the environment, food and rural affairs, HM Passport Office, Public Health England, Cabinet Office, Business, Innovation & Skills (BIS) and the Marine Management Organisation.
Sharon covered all aspects of the work and processes of Parliament including the structure and role of the House of Commons and the House of Lords, and the role of the Monarchy. Sharon also talked about the effective use of Parliamentary Questions and Early Day Motions in campaigning, bringing the session to life by providing examples of real issues that have been debated in Parliament. The audience was also informed about the role of Select Committees and All Party Parliamentary Groups.
The session was designed to increase knowledge and engagement with the work and processes of Parliament and this is exactly what it did. It was an informal, lively and interactive session with the audience given the opportunity to pose their own questions.
Kevin Crouch from HMRC said he
found the event very informative, and the presenter was excellent"
Shan Lloyd from BIS commented that
not only was the session very helpful, but I thought it was a great opportunity to attend training locally and a chance to meet colleagues from other departments.
If this has whet your appetite and you would like to attend a future session, please get in touch by contacting Ian Barton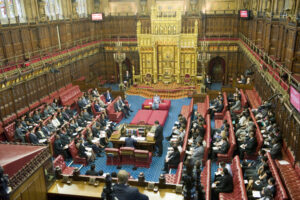 The photographs are used are Parliamentary Copyright images and are reproduced with the permission of Parliament - see www.parliament.uk