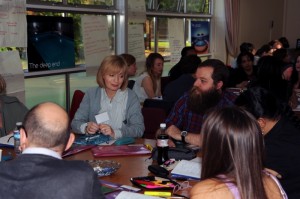 A month or so ago I was 1 of 47 delegates who took part in the Civil Service Local West Midlands Academy - a 4 day residential event for civil servants from all departments giving them the opportunity to develop skills to prepare to become leaders of the future.
I was nominated for this by my office manager and didn't really know what to expect from it. I turned up on the first day armed only with the knowledge that I'd have to develop and pitch a project with a group of people, and that it would probably be related to the Civil Service Reform Plan and the Capabilities Plan. Other than this I had absolutely no idea what to expect.
What I got was far more than I had anticipated. Over the 4 days of I learned a number of skills relating to people management, training, giving presentations, and more besides. I was presented with a number of ideas that were new to me and given plenty of opportunity to put them into practice, and as a result gained a lot of confidence to go along with the new skills I learned.
A large part of the Academy involved working in a family – my family were the Transformers - a group of 8 people plus a facilitator that you would work with all week, and eventually go on to deliver your project with. In my line of work, a lot of what I do involves working on my own so having a chance to work in a group like this was a great learning experience for me. None of us knew each other, and I wasn't entirely sure how successful a group of strangers could be in delivering such a wide-reaching project. However, all my doubts were put to rest almost immediately. As a group, we almost instantly became friends and all wanted to succeed in whatever challenge was presented to us. If you want an idea of how quickly we all got along, we were already planning to spend Christmas together by the middle of the second morning – they weren't kidding when they called us a family. Everyone in the group was supportive of each other for the whole week and we helped each other develop and grow through each assignment.
Coming away from this Academy, not only have I learned new skills and made new friends, but I've even been able to figure out the direction that I want my career to go in from here on out. By hearing other people's experiences, and trying things that I haven't done before, I've discovered the kind of work that I genuinely enjoy doing and will now work to steer my career in that direction.
The Academy experience hasn't ended yet, though. Over the next year I have a tremendous opportunity to work on a project with the people in my family. This project will be for the benefit of all Civil Service departments in the West Midlands, and because of this I'll have the chance to work with people from other areas of the Civil Service. I can't say for certain what the next year will bring. All I can say is that I intend to enjoy every last second of it.
If you would like to learn about other opportunities in the West Midlands please contact Andrea James and Janice Smith