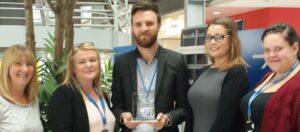 The Engaging Our Schools programme combines low-cost, cross departmental volunteering opportunities for civil servants with personal and career development whilst making a difference to young people's employability prospects.
We want to run projects throughout the north east of England, Yorkshire and the Humber that will involve making links with schools and using civil service volunteers to support pupils in a variety of ways. The sort of help that might be needed will vary according to each school, but might include: carrying out mock interviews, talking to pupils about the job you do, helping pupils write CVs or job applications or facilitating exercises to help them think about the world of work and their future. It will depend on the skills of volunteers and the needs of the school. No particular expertise or skills are required, other than a willingness to get involved and support local children.
We have plans for specific secondary and primary school projects in South Tyneside in the next few months so if you live or work in that area and would like to be involved please contact Anna Bradley for an expression of interest form.
We are also gathering names of potential volunteers in each area so that we have a pool of people ready to spring into action once we have identified schools that wish to work with us. We'd also like volunteers to be involved in identifying and approaching schools within their communities and thinking about how civil service volunteers can work with them.
To add your name to our list of volunteers, please email Anna from Civil Service Local and let her know your location. If you have any ideas about schools that might like to work with us, please include this in your email.