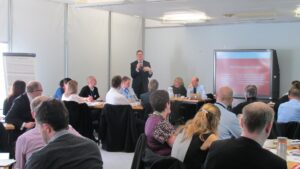 We recently brought together 48 delegates representing 17 departments and agencies from across the North East  of England, Yorkshire and the Humber at a Discovery Forum dedicated to The Way We Work (TW3) and smarter working. They ranged from heads of properties and facilities managers to district/area managers, Human Resource business partners and communications managers.
The event was hosted at Benton Park View, Newcastle and chaired by Neville Myers, from the Government Property Unit (GPU). Delegates heard from a panel comprising Olly Robbins, Director General Civil Service Group at the Cabinet Office, Joe Dugdale, Director of HR Policy, HM Revenue and Customs (HMRC), Lucinda Baldwin, Programme Director of Estates, Department for Work and Pensions and Jayne Storey, Benefits and Credit, HMRC.  The panel gave their personal reflections on the importance and their experience of smarter working.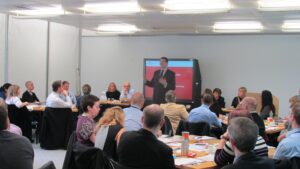 There followed a lively Q&A from delegates who chose groups to discuss the three most pressing issues they had voted for in a pre-forum survey. These issues were: cultural change, influencing senior managers and developing a trust-based and empowering culture. The outcomes of these discussions were captured by GPU and Cabinet Office colleagues and shared with the panel. Delegates were signposted to web based links for additional support and given a tour of the new HMRC Digital Project Space at Benton Park View.
The event not only provided an opportunity to find out more about the Civil Service Reform Plan's aim of creating  'modern workplaces for all' but offered the chance to network and share good practice.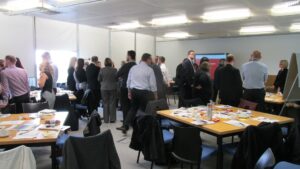 Richard Graham from Cabinet Office tweeted that he had a great day discussing TW3 with civil service colleagues and that it was great to see the world class HMRC Digital Centre.
Feedback is currently being evaluated and it is hoped that further events can be rolled out across the country.