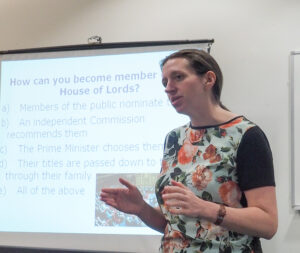 Take one expert, a group of assorted civil servants from different departments, the UK Government as a topic and you have the makings of a lively discussion. This is exactly what happened on Monday 2 March when Clare Mullin, from the Houses of Parliament Outreach Service visited HM Revenue and Customs' Nottingham campus and gave a presentation about how the Palace of Westminster operates.
She began with a quiz that covered both the House of Commons and the House of Lords. This got things off to a positive start and was supplemented by an illustrative slideshow. Everyone was amused by the last question which concerned the Chancellor of the Exchequer being the only person in Parliament who can drink alcohol in the chamber! Clare then got on to explaining the role of the House of Lords. Did you know for example there are approximately 780 members, with 665 being life peers, but only 92 hereditary peers?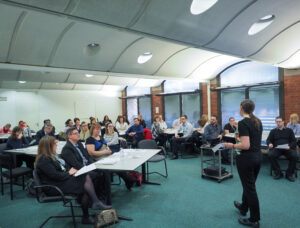 Clare then went on to discuss the workings of the House of Commons, including MPs, Bills, Passages, Green and White Papers and Select Committees. In fact anything you wanted to know about Whitehall in just over two hours. All the attendees were engrossed in what she had to say and asked intelligent questions as things progressed. All in all it was a well-received and educational presentation and Clare certainly knew her stuff, with everyone leaving with a clearer idea of how the machinery of government presides over the United Kingdom.