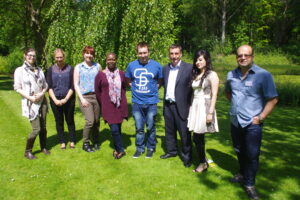 When January's Civil Service Local newsletter dropped into my inbox for some strange reason I decided to read it rather than consign it to the deleted folder where many of these correspondences end up.
I've never been so pleased and relieved that I made that decision.
At the top of this particular newsletter was an article about the Civil Service Local East Midlands Academy 2015. It seemed to be aimed at AA to EO grades and, again, at first glance of no interest to me. Intrigued by a course aimed at developing future leaders I read on.
My second good decision of that day.
There at the foot of the article was a call for volunteers. I thought I had the skills required and I was certainly interested, so I emailed to my line manager and then sent a second email to Chris Ball, the Academy project manager simply asking him for more details. This bit could, and is, getting really boring so stand by for a time jump.
Some time later, Sunday evening and I drove from Nottingham to Lincoln to meet up with a group of extremely enthusiastic civil servants, whose only drive was to make sure that the Academy ran smoothly and all delegates got the maximum out of these four days. If you could harness the energy from these people and put it in a bottle you would not be able to keep the cork in. Of all the project team there was only one other facilitator and me who had never been involved in the Academy before. But that didn't matter as we had all met before and had been tested, tasked, put through our paces, had a laugh, but mainly put at ease by Aunty Jo Whitten. Our family rooms prepped, final briefs out of the way, we all awaited the arrival of our families.
At breakfast on Monday morning I thought what have I let myself in for and wondered how the dreaded ice breaker was going to go and whether my family was going to be an Adams or a Partridge (younger readers might like to pause to Google these). I needn't have worried, our family, the Nightingales, were a great group of individuals. Our desert island ice breaker ended up with many practical items, including tools, a helicopter flown by Tom Cruise and make-up to keep us looking good. After all we had the Queen and two Bear Grylls on the island with us!
Monday went into Tuesday and Wednesday which came around quickly and this group of individuals who had never met before, from 6 different departments and clearly anxious at the beginning, had saved a failing zoo, negotiated their way around the entire London underground, re-foliated the tree of knowledge, experienced the fear of being late and incurring Annie's wrath, endured some appalling jokes and Henry the horn, advertised a plastic fly swat, had a project accepted by a Dragon but, most of all had come together as a family 'The Nightingales' to be proud of; Chris Huntington, Neelam Hussain, Mehran Ghods, Hannah Atherton, Jacque Gonsalves, Hannah Bingham and Paul Ward.
So, are you up for a challenge? Happy to be absolutely worn out after an intense four days? but, most of all want to see and work with some amazing people who are aspiring leaders and help them shape their future? Then my personal advice is, these opportunities are rare and comfort zones are for wimps, so get in touch with Civil Service Local!