When Steve Bland from the National Offender Management Service (NOMS) arrived at Trinity Buckshaw primary school, he introduced himself and his team, explaining a little bit about what they did, but holding back as he didn't want to give too much away at this stage.
All 36 children were obviously enjoying Steve's entertaining talk which led to him asking if any of the pupils had dogs at home, and if they knew what they wanted to be when they left school (the children, not the dogs, obviously). Hands shot up with answers ranging from footballer to vet and dancer to anthropologist – I readily admit that I'm not sure I'd have even known what that was when I was 10!
After arranging themselves in 3 groups, Steve asked the budding anthropologist and friends to make 2 lists – one of all the jobs where you would wear a uniform and one where dogs would be used in the world of work. Again, it was great to see the children getting stuck in and listing everything from the police to McDonalds, dogs for the blind, search dogs and even 'cadaver' dogs – they find dead bodies apparently. I really was learning a lot from these children. Once the lists were complete, everyone stood at the front and read them out. It was amazing to see these young children volunteer to do something most adults would shy away from.
Then it was time for the main event as Steve's team brought the dogs in. He explained that NOMS use 2 different types of dogs: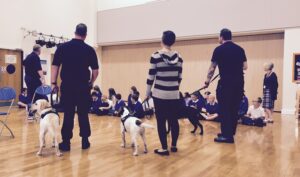 Active – these are the dogs that run around searching in every nook and cranny
Passive – these are the dogs that are less intrusive and so are used to search humans
Steve also explained that the different dogs are trained to search for specific things including drugs, money and explosives.
With plenty of willing volunteers to choose from, Steve demonstrated the 2 types of dogs used in Prisons. The children stood in a line to be searched by the 'passive' dog - a golden Labrador call Jack. The children then sat down and were again searched by Jack. He found something and was rewarded with a tennis ball. His handler, Chris, couldn't get the ball off Jack!
Steve then hid a package in the room and it was Jasper's turn as the 'active' Springer Spaniel searched the room. Again, once he had found the package he also got a tennis ball.
NOMS have their own breeding progamme so that they can hopefully produce some excellent dogs to work with them. They brought one of them along. Fin is a 12 month old Springer Spaniel/Labrador cross, but it's too soon to tell  whether he'll make the grade yet and become either 'passive' or 'active'.
Steve finished off the session by asking "does anyone have any questions?". All hands went up, but there was only one question "can we stroke the dogs?".
Teacher, Stacey Finch summed up the session:
The children thought the dogs and the NOMS team were awesome and were absolutely amazed at the session.