Back at the 2014 Civil Service Awards, we were so proud as a team when we at Civil Service Local North West were awarded the 'Excellence in Reform' award. It was recognition for our successful programme of work which we do to support our local citizens and communities.  We didn't set out to win an award, we set out to help our more vulnerable customers. But, having said that, the recognition did give us all a real sense of pride and extra shot of motivation to carry on with our innovative ideas and activities.
So, it was a great privilege to be invited back to celebrate with other winners from the past decade and mark this anniversary year for the Civil Service Awards.  The key speakers at the event included past award winners who reflected on how winning had affected their careers in the years that followed.  They gave me food for thought on how having pride in what our team achieves - combined with a little recognition from others - can count for a lot in terms of continually striving to achieve even more.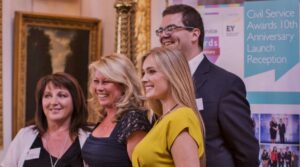 Sir Jeremy Heywood (Cabinet Secretary and Head of the Civil Service) says
Not only are the Awards well-deserved recognition for the individuals and teams who receive them, they help to spread best practice across the Civil Service, promoting greater efficiency in government and encouraging the spirit of innovation.
My colleague Janice Lea added
Both last years' ceremony and this week's launch event provided a timely reminder about the depth and breadth of what we achieve as Civil Servants.  It has reinvigorated my passion for being a Civil Servant.  It was also great to hear the new Minister for Cabinet Office, Matthew Hancock, enthusiastically endorse the valuable work we do.
Nominations for the 2015 Civil Service Awards are now open and I would encourage you all to consider yourself or colleagues for nomination - visit the website for more details.