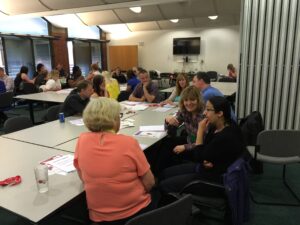 In July we welcomed the Cabinet Office to speak to civil servants in Nottingham about the Leadership Statement and the Talent Action Plan. The event was so oversubscribed, with attendees representing 15 different departments, we had to run 2 sessions!
The leadership statement has been produced following consultation from civil servants across the country. It outlines the 3 key characteristics all leaders in the civil service are expected to adhere to - Inspiring, Confident and Empowering
Nick Joicey, Director General for Strategy, International and Biosecurity at the Department for Food, Environment and Rural Affairs  joined us to explain what the leadership statement meant to him. It was clear from listening to Nick speak that he is passionate about improving leadership across the civil service. He spoke of the importance of leadership across all grades through demonstration of positive behaviours.
There were plenty of opportunities for discussion in this interactive session. Our attendees were asked to share stories on leadership from their own departments and encouraged to share best practise and learn from each other.
The Talent Action Plan was launched last year to set out the Governments plans to tackle barriers to success faced by under represented groups in the civil service. In response to this Cabinet Office have begun the Champion Difference campaign which aims to get civil servants challenging assumptions, championing difference and changing their outlooks.
At the end of the session everyone was asked to make a pledge on how they would change their approach to leadership and support their colleagues in championing difference in their departments. I pledged to lead by example and challenge inapproriate behaviour I witness in the office. What will you pledge?
If you missed the session or would like to know more please visit