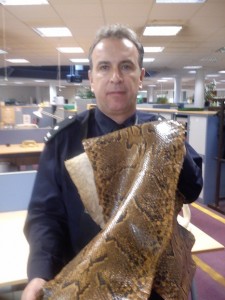 Connecting with our local communities through volunteering with schools and community organisations not only promotes awareness of how our work supports the public, it helps citizens access the services we provide. It also provides opportunities for you to develop and enhance your skills, and your customer insight - all essential for the Civil Service of the 21st century!
Civil Service Local offers a number of opportunities to get involved including:
going into schools to raise career aspirations and instil a positive view of the world of work
working with civil servants from different government departments to offer practical information and joined up advice to hospice patients and their families and friends
working with vulnerable citizens giving practical information and advice to families who need additional support in using technology to access our services
helping to deliver life changing skills to homeless people.
Nick Anthony, a Border Force Officer who has been going out into his community for some time voluntarily giving talks to professional, vocational and social groups, schools and colleges shares his experience of working with primary schools.
When I go into schools I talk a bit about the history of Customs and the first items taxed, such as tea, as well as what we do today. I take along exhibits of endangered species such as a 15ft python skin which they unroll, which certainly captures the imagination. They like the grisly animal items!

I talk about counterfeit goods and compare the pupil's lives to those of children in sweatshops who are forced to work long days to fund criminality. But I always present at a level they can understand.

I also take along my Customs and Excise Commission and HMRC and Border Force warrant cards for them to compare.

I think it is important to be visible outside the workplace and to publicise our role. Too few people understand what Border Force and indeed the Civil Service do. We need to engage and educate; today`s schoolchildren are tomorrow`s Border Force!
These talks are always very well received and Nick has received some very good feedback including this from one primary school.
Thank you so much for coming into school; the children really benefitted from the interactive session you provided. They were actively engaged and last week were still talking about what they had learnt from when you came in. It tied in really well with a recent visit to Felixstowe docks. The children were able to ask questions and gain an understanding of the important job that you have in making sure the right- legal goods come into the country. The session was engaging and also linked in well to our PSHE learning on what jobs are based in our community but also why they're important. The children and staff all benefitted from the sessions and I hope you will be able to come back next year!
If you have ideas for volunteering activities, would like to project manage an activity or are simply interested in participating in community activities in London, the South East or East of England contact us briefly describing what your interest is.
You must have your line manager's approval to participate in activities undertaken in work time. Subject to discussion with your manager these may be counted as development time or taken as volunteering time.
Civil Service Local is committed to ensuring that wherever possible our events are accessible to all participants. If you have any specific requirements that will enable you to fully participate, please let us know and we will endeavour to make any reasonable adjustments.