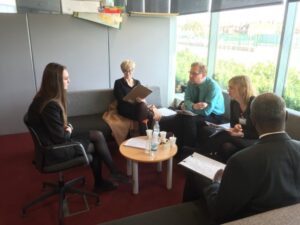 Civil Service Local volunteers recently received an emergency call to support an interview day at a local school, and responded in style.
The opportunity was at the Bulwell Academy in Nottingham, a forward looking secondary school we have worked with for several years.
With only 2 days notice a dozen of our volunteers worked alongside other local businesses to support over 140 pupils with their interview skills development.
They acted as interview panels, asked relevant questions and encouraged the pupils to talk about themselves, their work experience training and the careers guidance which the Academy provides. Our volunteers were able to provide a safe environment for the pupils to hone their skills and offer immediate constructive feedback.
It was great to help these students to understand the skills they have, and how to stand out. The atmosphere was brilliant - Fran Draycott, HM Revenue and Customs
The Academy were full of praise for the energy and expertise the volunteers showed in working with the students, commenting on a really positive impact across the whole year group.
It was good to give something back and the school was so appreciative - Jennifer Clarke, Gangmasters Licensing Authority
Keep an eye out for the CS Local bulletin for future opportunities to work with the local community.