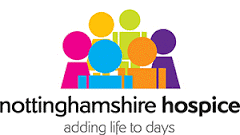 We are always on the look out for a chance to support people and groups in our community, provide development opportunities for colleagues and to work across government departments.
Carers Rights Day this year gave us the opportunity to do just that. For Carers, getting the right information at the right time is essential, but not always easy.
In conversation with one of our partner organisations, the Nottinghamshire Hospice, we identified a chance to support the carers that used their residential and outreach services.
We decided to deliver a Government Access Point event. This means bringing together knowledgeable civil servants from relevant different government departments to act as a single point of advice.
At the hospice volunteers from the Office of the Public Guardian, Department for Work and Pensions, and HM Revenue and Customs came together to provide information on a wide range of topics including power of attorney, taxes, benefit changes and job search, as well as signposting other sources of support and advice.
We were able to offer a friendly, face to face and informal service, supporting hospice users, families, friends and volunteers, and heard from attendees how useful and valuable this was.
The carers we spoke to were surprised we could offer this kind of service.  The event was also an excellent opportunity for the organisations to network, exchange ideas and get to know about the services they each offer, building links for the future. - Geoff Holloway, volunteer
We would like to thank everyone at the hospice who actively promoted the event and made the Civil Service Local representatives feel welcome, and to the volunteers and their supportive managers for making the time and effort to make the day a real success.
Carers Rights Day encouraged all carers to get the support they are entitled to, wherever they are in their caring journey. We were delighted to be able to be part of that and intend to do the same for Carers Week in 2016.
If you are interested in this type of volunteering keep an eye open for our monthly bulletin.