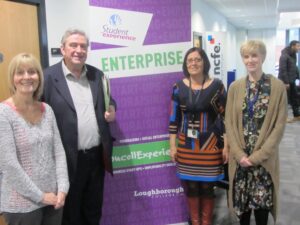 You may have read  here  about the Young Enterprise charity and the important work they do.
Civil Service Local volunteers recently took up an opportunity to support them as part of an employability workshop with degree students in Loughborough.
Lining up alongside local entrepreneurs and speakers from the business world we used our experience to give a rundown on how to get ahead in recruitment and selection.  We discussed topics ranging from what to do at interview and successful networking to what not to do on social media.
For the students it was an opportunity to hear a different perspective on these issues and have time to discuss them.  For the Civil Service Local volunteers this was also a chance to apply some recent training on transferable skills and first impression.
I thoroughly enjoyed my day facilitating at the Loughborough College Employability Workshop. It was interesting to work with a group of young people who are getting ready to take their first step into the world of Full Time Employment.
I was able to use techniques I had developed through our Train the Trainer workshop & found it extremely rewarding to pass on these valuable skills to a new generation! It certainly demonstrates that the skills and competencies we develop as Civil Servants are transferable to other working environments - Brenda Mitchell, volunteer
For me it was a great opportunity to challenge myself by working in a new environment with different colleagues. The level of interaction and input from the students was very rewarding and the feedback really positive that they took a lot from the day.